8, 8, I forget what is for
Here's a bit of starter-yeast for a thread this is intended to be a reflection of how y'all came to understand the D&D system you are currently using.
For me, its encapsulated in a evolving understanding of the 1e DMG and how to use it.
For today, let's start slowly...
I'm just going to talk about the Attributes Bell Curve, since that's the first figure you see in the DMG.
It always struck me as a strange (useless/lame?) plot to begin the Guide,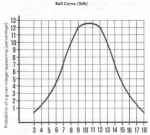 But now, years later, I grasp it's utility when thinking about Adventure/Game Design.
It answers: "
What fraction of PC's will meet this requirement?
".
For example, today I was specifically pondering the question,
"Should there be a strength requirement for getting your Dex AC bonus while in Plate mail?"​
If so, where should I set it? 15? 12? I couldn't get my head around it...so I made this: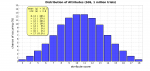 Occurred to me the Cumulative Distribution Function (CDF) is probably more apropo here. So I added that little floating table. Half-a-percent means 1 in 200 rolls is an 18. Hmm...
DING!
(light bulb appears over my head)
The DMG does not really tell you so much "How To Play The Game", or even "How to DM" --- it's more of an informal aid that helps you
Be a
Better DM
. Yes, there is some essential info in there (e.g. attack table) that are nowhere else. But most of it is Gygax's Tips that get you out of those weird corner-case jams you'll eventually find yourself in as a DM. It's been said elsewhere, but bears repeating:
the tone of the book is Peer-to-Peer.
It's a strange text, to be sure, but I've grown fond of it.
More to come...
Last edited: