So ... slow work day? Every day?
Flayed Whistle of the Marked Trace
was authored by Rabenwonne for Levels 1-2 for system neutral.
I swear I'm never drawing again for my own adventures...everyone in this contest has great art!!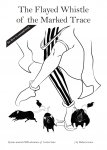 Alright...I'm going to start off by saying--this is not your typical adventure. It even states that on the cover--"...adventure of twisted tales." What's your typical adventure? Well it's the type of adventures we like to read reviews about on Bryce's site where backstories aren't long, areas are short and easy to scan and etc. etc....but this is an "adventure of twisted tales" so I see it as more of a story teller type adventure. Not only that but it encompasses the fairy tale vibe....
I break this down into Pro's and Suggestions. Let's take a look.
Pro's
Right off the bat, we got a long backstory--about a page. This is usually a negative in most adventures, but I'm making it a positive for this review. Why? Because this adventure is based on a fairy tale...you NEED a tale to get that fairy tale vibe..right? So I think moreso than other adventures, this type of backstory IS needed to capture that vibe.
So we learn about the major NPC's and their drama and then Rabenwonne spins a wildly creative curveball--a secret becomes an entity on its own! It's basically the main villain in the adventure. Immediately, that pulled me into the fairy tale vibe. To help us keep track of the major NPCs, there is a character chart which shows how everyone is interconnected. Awesome!
The adventure has a wilderness map and gives a general layout of the lands. A few descriptions in the map allows DMs to build upon the land and incorporate their own stuff. It gives a brief description of the landmarks--this is great!
There is a city and it's in a star-like fortification. That goes great with the fairy tale vibe.
There is the trope of coins being tossed in the magic fountain--which is completely fitting in this adventure.
I liked the random encounters in the city and that there are both day and night differences.
Overall, the maps are good and easy to read. And there are also player maps in the back or possibly for online play.
I like the illusionary wind that people can't hear in one of the rooms. I can see my players trying to figure that mystery out. That sort of stuff keeps people on their toes. Along the lines of the illusionary wind, I like the weird, glowing fungus thing.
I loved the wine spirit….my dwarf character would snatch that and carry it with him. Again, these are the type of things that fit into a fairy tale and it works great.
I love the ghost of Sir Herribert..coming out and brags about his deeds. Could use some examples (i.e. I killed Grubvastik the Red Dragon by myself, blah blah.") to help the GM, but I loved the roleplay aspect this brings to the adventure.
Then the adventure goes up a notch with the fairy tale vibe in that people play music to keep safe from the dire moles. So this gives a whole reason why this whistle was made and how the history of the NPC's have twisted it all up. I felt like I just read a tale from Disney.
Did I say the art looks great yet? Well it is! I love all the rat paws everywhere--it keeps with the whole theme.
The Coph Caves--there is a section for the NPCs which is great.
I also liked the general creepy vibe of the city--it was mysterious and makes people wonder what's going on here.
Suggestions
First off, the adventure is not very GM friendly as far as scanning it during play:
1. Could use a table of contents (I'm a TOTAL hypocrite--I didn't put one in mine either. Damn it!).
2. Using
Italics
for the description of the Flayed Whistle can get hard to read when using it in paragraphs.
3. Overall, the adventure is not easy to scan to find information quickly during play.
Bolding
, bullet points and/or indents would help the scannability.
The main issue of those 3 is #3. So let's explore that a bit.
There is an area where if PCs watch servants, they can find information about the basement or they could discover information about the prince. But all of this is embedded in paragraphs. They would of been more clearly seen in a table or with bullet points.
I'd prefer to see names of rooms as a title before describing them. For example
2. Conference Room:
then the description of the room could go after it. This was done in the city part, but not in the basement. Having that title is a useful tool when playing because you can immediately visualize the room instead of having to read a bit to determine what's going on. It also breaks up the sections a bit.
Bolding
make things stand out—for example, the potion of invisibility in room 12--I almost missed it, whereas
Potion of Invisibility
or even
Potion of Invisibility
would pop out a bit more. Yes, I know...Italics...but when it's short like that its not as hard to read.
More evocative words could be used. "Small" was used a lot in descriptions. Of course, English is not the author's first language and I think she did a great job overall writing this in English! Das ist gut Anstrengung! (did I say that right?)
Room 3—could have some examples of type of stuff in the shelves, types of ingredients, etc. Maybe even an opportunity to put in a table of random stuff to make things interesting. This helps the GM not have to come up with something on the fly if players ask what's inside. Same with 18. Chest of belongings—give examples...maybe some are valuable?
Describe, don't tell:
"7. This is the entrance and exit that the drude uses whenever the masquerades as a washerwoman and hides among the servants. Behind a knight's armor on display is a secret spot for eavesdropping."
Maybe the room is not very dusty because its used all the time by the drude...or maybe the door is well oiled and easy to open...other clues that the room is well-used instead of telling us that the drude uses it.
"16. The drude found a way to build a secret chimney that leads the smoke up behind the laundry room where the smoke mingles with steam. The drude uses this fireplace to cook whenever she feels the need for a hot meal."
This is an attempt for things to make sense and I totally understand why you wrote it like that...but you need to think about if this will ever come up during play? Maybe if characters find themselves in the laundry room and got sniffs of smoke it would make sense to leave this in here or if it was another entrance into the basement, but it's not useful info DURING play...it clutters up text and hides important bits. Another way to incorporate the chimney is that maybe some trinket is hidden in there.
So, I wrote some other comments while reading the adventure which I think hammers in my last point:
If there wasn't a backstory—how would the characters know the 'story' of whats going on? What makes them curious about the prince or the king's affairs? What gets the characters into the basement? Rumor tables and adventure hooks could assist with giving the PCs clues on what's going on. The city especially could of used a rumor table to help the players learn of the story.
AHA! YOU DID DO THIS! I found the plot hints...great! But I think they would be better in the beginning so the GM has a grasp of what's going on in the beginning.
Overall
It's obvious to me that the author has a great grasp of what makes a excellent fairy tale. I think that vibe was captured perfectly. The adventure is there too as well as a mystery component...but what is needed is a few tweaks/tools to make the adventure easier to use for the GM during play.
I could totally see this adventure for young children to get them to play a tabletop roleplaying game and I'd want to see more of them.
7/10