So ... slow work day? Every day?
Irradiated Paradox of Volatile Skies
by the 1True for adventure levels 6-9. (I think DCC ruleset?)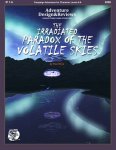 Ok...holy shit...I thought I could bust adventures out fast, but this thing is 90 pages and crammed with stuff!
I also don't know if I'm going to give this a fair shake as I'm not completely familiar with point/hex crawls, but I got some Pro's and Suggestions of things that stood out, so let's take a look.
Pro's
I liked the Noticeboard with side quests and bounties. I think that's definitely a nice touch for a sandbox and provides several opportunities for different approaches. In fact, the author even gives other options on where to start.
I like the boxed text around the statblocks--makes them stand out.
There are a few comments nestled in here that I found humorous--"If you are killing and looting old Krong, maybe you should be playing something else." and '5: Empty Room---Every dungeon should have a couple'….yes, yes they should..lol.
There is a huge rumor table. I wasn't sure about the markings: T = True, F = False, P = ? is that probably? But all those rumors are awesome. One suggestion is maybe split them up or create new ones for other major areas--like the Pantheon of the Sea and Phaestus's realm. The groups there may have different rumors or a different perspective on things.
Encounter Tables--I like the mood section. I was going to say the Activity section could be more enhanced, but then I see you do a write-up of their activity with the statblocks--so I'm not sure if the Activity column is helpful or not? Maybe it may spark something for a GM to remember something, but I'm on the fence about it. But it's good everything is doing something.
Toxic Manticore--cool description
I liked the Quickstarts section. Seemed to be 2 situations of some things that are happening in the area. That helps make the place feel alive.
I liked the tactics for the monsters--some would enter if they heard fighting, or some would use terrain or try to flee, etc.
I like the notes of the terrain—glacier, mountain. It's key words that immediately know what type of area you are in---its like calling a room Kitchen for a kitchen--you can immediately describe it.
NPCs have some great descriptions.
Hazard tables are a big hit here...That's something I would like to see more of in adventures. Even if its just incorporated with the wandering encounter table (you rolled a 6 so consult the hazard table). Anyways, I liked that a lot.
There is tons of creativity in this adventure, from the new monsters (beebears, bearbees..lol) to all the crazy stuff that is going on. This whole place is squirming with action. I really liked the Nautilus Throne--I could completely imagine it and the touch that the Holy Engineer tells them to use it to gain the knowledge they need is pretty cool.
There is a bunch of stuff that I could imagine immediately--the breathing pit...loved it! 'A lone PC swimming down without the use of magic is hugged by the crushing darkness'….very evocative and can immediately picture it.
I like the different shifting monster as it gains power. I know my players would be greatly annoyed though if it was able to keep fleeing and escaping.
The different event tables are great.
A few times there was underlined words...I think this works great, just like bold. Something I haven't really considered for whatever reason, but not might try to incorporate that.
Challenge of the Well map is great and useful for the GM and all the maps look great. I liked the inset maps of the hexes.
I like the creepy vibe of Phaestus's Realm. I loved 'joining a cult' table and the different quests littered about—although I think it would be good to have them in a summarized table.
The hex crawl notes are helpful and I thought there some fun tables for radsickness.
The hash marks and indentations are great, breaking up the info and making it scannable.
There are a few times when I think about an adventure for a few weeks and when I get time to write something down, it just vomits forth....I felt this vibe from The1True on this adventure....he must of been typing furiously! Tons of imagination and creativity.
Suggestions
White Space....how about giving some of these descriptive areas a little breathing room?
A space between the descriptive areas would of broke things up a little better in my opinion. Maybe larger font for the titles of the major areas to make them stand apart--Ruins of Keep Maholzin, Mother of all Jellyfish, etc. Sometimes I felt I flowed into a whole new area before realizing it was a different place.
Summaries....The adventure just started...was sudden and I didn't know what was going on. I guess I needed more in the first paragraph to know what the purpose was. This is where I'm not sure if I'm a good judge on this part because I think hex crawls main point is to explore?...which is fine..but as a GM, I'd want a little more summary of what's going on and different factions. I also suggest having a summary for each major area and maybe a bullet or table of the rumors or quests. For example, pg. 33 Find the Holy Engineer, or that Snegoferka is needed for an important task are embedded in the writing. I wouldn't be able to find it again quickly. I needed more meat for 'the why' for doing stuff---like visiting the Tesseract. I'd prefer more of a reason than "you should go check it out". It's like there were these big things going on, but I felt like I didn't know about it and it could be because I had to read this over three sessions so I could of overlooked or forgotten something.
There was some reuse of the same descriptions—like for the manticore, and wight monks in the dungeon, storerooms...etc. Minor nitpick.
I love the Dungeon Race idea—the GM knows what's going on...the events table can give hints to players that the place is busting up...but how do the players know that its the goal to find this creature? I might of missed that somewhere. Is this a trust the player scenario here and I'm missing it? I think the section needs a summary of what's going on or main goals listed or even the rumors that are for that area put under that description. The map to the Power Tesseract is huge! I like the idea of the table for random rooms, but the place is so big, I think the table needed to be bigger or a smaller map. I also think it might have been interesting to have 2-4 other adventuring parties running around trying to find the creature and were used as wandering encounters—so it gave that additional feeling of a race.
Snegoferka seems pretty important—would of liked to see a description of what it looked like (I know its a trident). More like what was done with the Thunderbirds Barb.
Crab Hill mining machine—seeing a lot of 'small' and 'large' descriptive words.
Southwest Tusks Hex Crawl—for me, I think it would have been better to have this in the beginning. I'm not that used to hex crawls and kept getting lost. But this seemed like the big picture of the place.
I'm looking at your bookmarks as I write this. They are helpful for a pdf, but what if this was a book? I'm talking out loud here, but I think I would of given staging area, encounter table, then the overview of the Southwest Tusks Hexcrawl. Then maybe have everything else as an Appendix. So Quickstarts would be in an appendix, then each major location. I felt like sometimes I would read through an area and it would be abrupt again each time I hit a new area...or sometimes I kept reading and had to go back as I had flowed into a different area. Again--summary would of helped me with that.
Summary
Overall, this adventure is packed with stuff going on. It's written in a style that immediately gives you the tools you need to roleplay it out or describe monsters/NPCs and uses tools for quick scanning (bolding, indents, etc.). There were so many quirks of things that really stood out and some good evocative writing in places. I feel like there is a lot of stuff I missed because this thing is so crammed full of stuff!
But for me, I would of liked to see a summary of the big picture, and 1 paragraph quick summaries for each major area with any relevant tables for that area. I griped about that a lot in this review, but that's a pretty easy fix for a great area for adventuring with tons of creativity, action and and place that feels alive.
I've been going back and forth between an 8 and a 9..so compromising.
8.5/10